Posted by Flinn Leigh Eng on Dec 27th 2017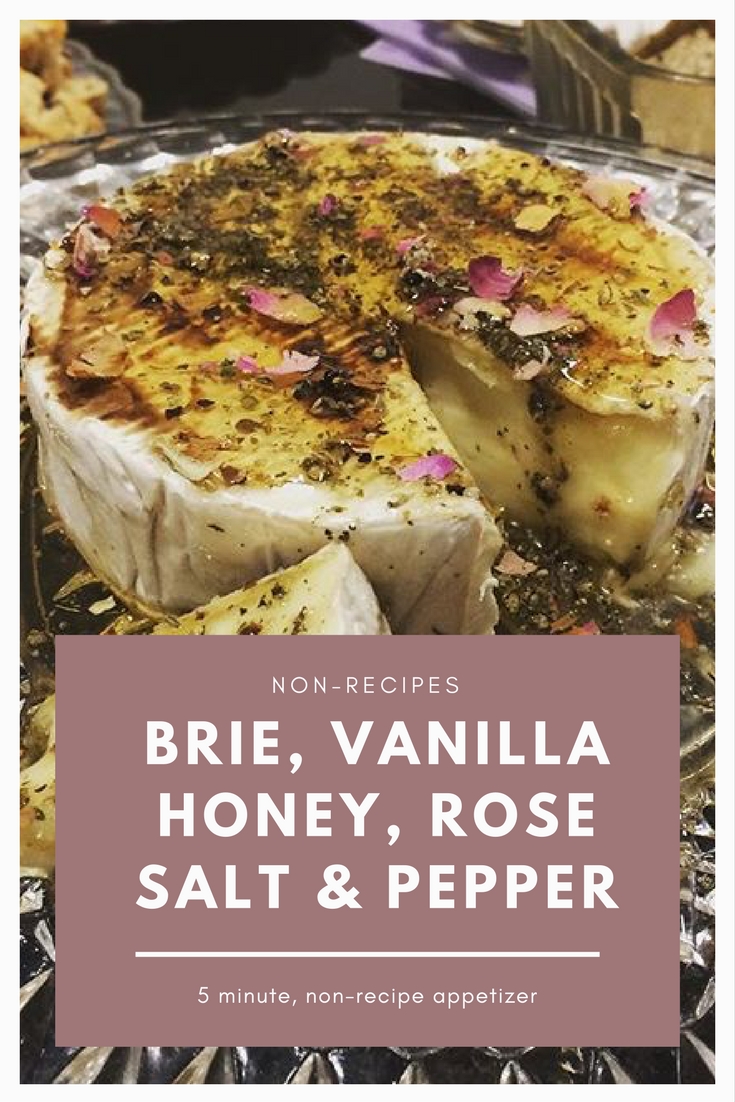 Does the term "cocktail party" conjure up flashbacks of endless rows of cocktail weenies, veggie plates, and hundreds of toothpicks? Be the first of your friends to impress with a new appetizer that tastes like you spent hours in the kitchen, but only took you a few minutes to put together. Imagine a mellow, melty bite of brie cheese, topped with sweet and fragrant vanilla-infused honey. Then, a surprise pop of warmth from crushed black pepper, floral rose petals, and earthy thyme. Your guests will marvel at the layers of nuanced flavor and beg for your recipe, but there's no recipe at all! Our Rose Salt & Pepper blend is an effortless, sophisticated secret ingredient that can make simple dishes sing. It's as easy as sprinkling a pinch or two on top! Here's how:
1. Start by infusing your honey. A small jar of honey (up to 10 ounces) will pick up a lot of flavor and fragrance from a single vanilla bean. Split the bean lengthwise with a paring knife. Scrape the seeds from the vanilla bean, then add the seeds and the split pod into the jar of honey. Stir, and let sit for at least two weeks. The longer you allow the honey to infuse, the stronger the vanilla flavor will be.
2. The day of your party, bring your wheel of brie to room temperature. Bake it at 400*F for 5 minutes. Check to see if it's done by giving it a gentle poke with your finger. Your cheese should be soft and have a little bit of give. It should not be molten, runny liquid. If it's still too hard, give it another 5 minutes in the oven.
3. When your brie is warm and gooey, carefully transfer it to a serving platter. Drizzle your vanilla honey all over it, and then sprinkle generously with Juniper's Rose Salt & Pepper. Serve immediately, then grab a glass of wine or a sparkling water and enjoy!