Posted by Sarah Acconcia on Sep 3rd 2022
A refreshing drink to share with friends, easy to make and even easier to sip!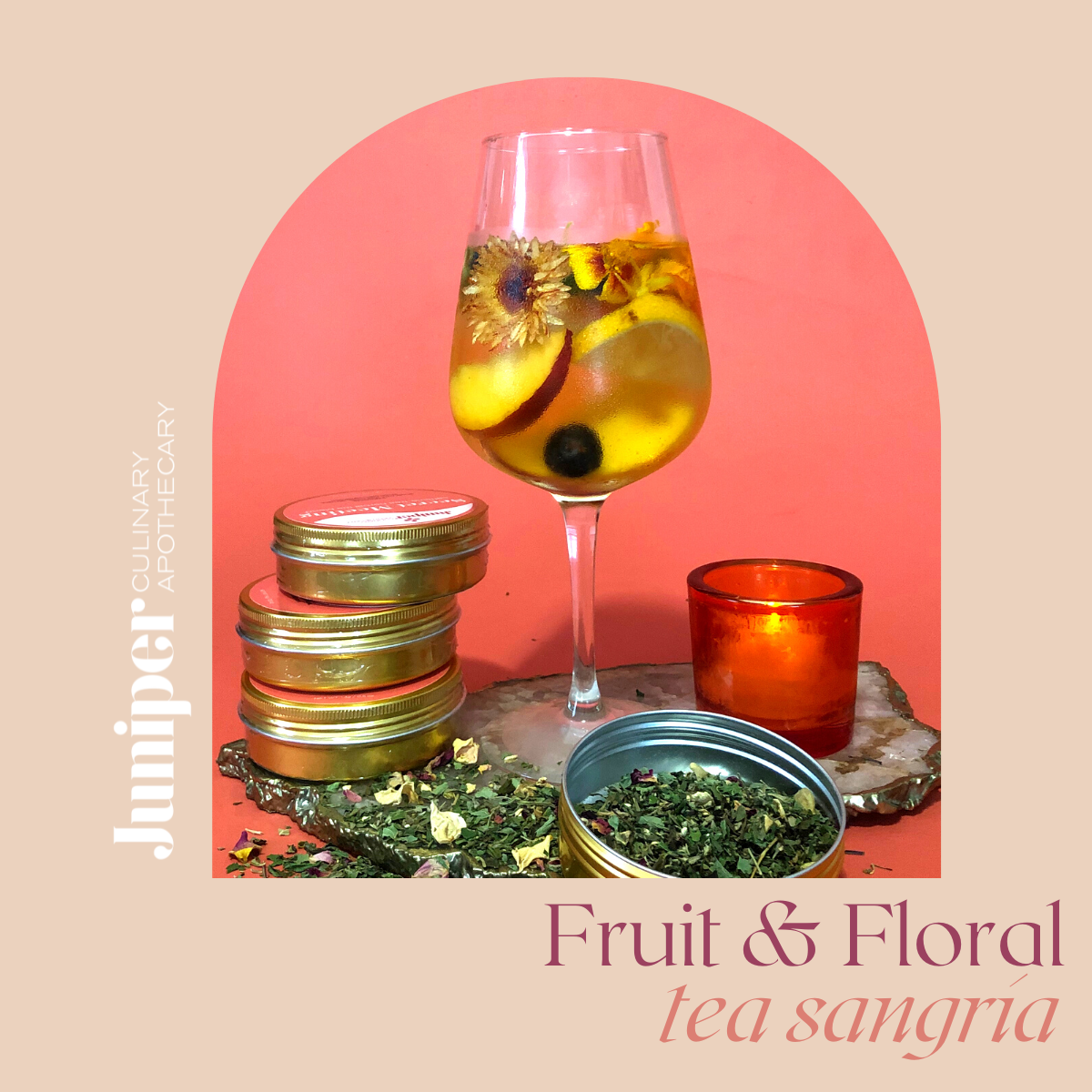 The featured ingredient of this tea-infused sangria is our Secret Meeting herbal tea blend. Secret Meeting was designed to create warming, euphoric feelings. The main ingredient is a powerful herb called damiana, which is native to Southern Texas, South and Central America, and the Caribbean. Damiana has been used in folk medicine for centuries to support and enhance sexual function, as it may stimulate blood flow. Many folks find damiana to have a warming, energizing effect. When combined with a bit of alcohol, as we do in this sangria, it is sure to give a bit of a boost to your evening!
Looking for new ways to drink herbal tea? How about creating your own signature cocktail?
Tea is a great cocktail ingredient, especially if you are trying to avoid sugary sodas & tonics! Teas can be brewed unsweetened so that you can infuse some flavor into your drink without adding unneeded sweetness. Sangria is my favorite cocktail to add brewed tea, because it pairs so nicely with fruit and floral flavors. Tea Sangria will become your new fave for parties--make a pitcher and you're good to go!
The best part about this tea infused cocktail recipe is that you can use whatever ingredients you have on hand. Switch up the fruit based on the seasons. Right now, I am loving the end of summer blueberries and nectarines. Try using this recipe with different kinds of teas, wines and liquors to make it your own. Think of it more as a formula than a recipe, and you'll have something fun to serve your guests year round!
For example, swap out the Vinho Verde for a buttery Chardonnay. Try a dark fruit and red wine combo with our Lucid Dream herbal tea (make sure you're ready for sleep though). Here are some other combinations that I'm starting to dream of:
Whoa Calm Down + Sauvignon Blanc + Brandy + Strawberries
Head & Heart + Champagne + Cointreau + Orange Juice + Orange slices
Your Fave Herbal Tea + Your Fave Wine + Your Fave Fruit (Obviously!)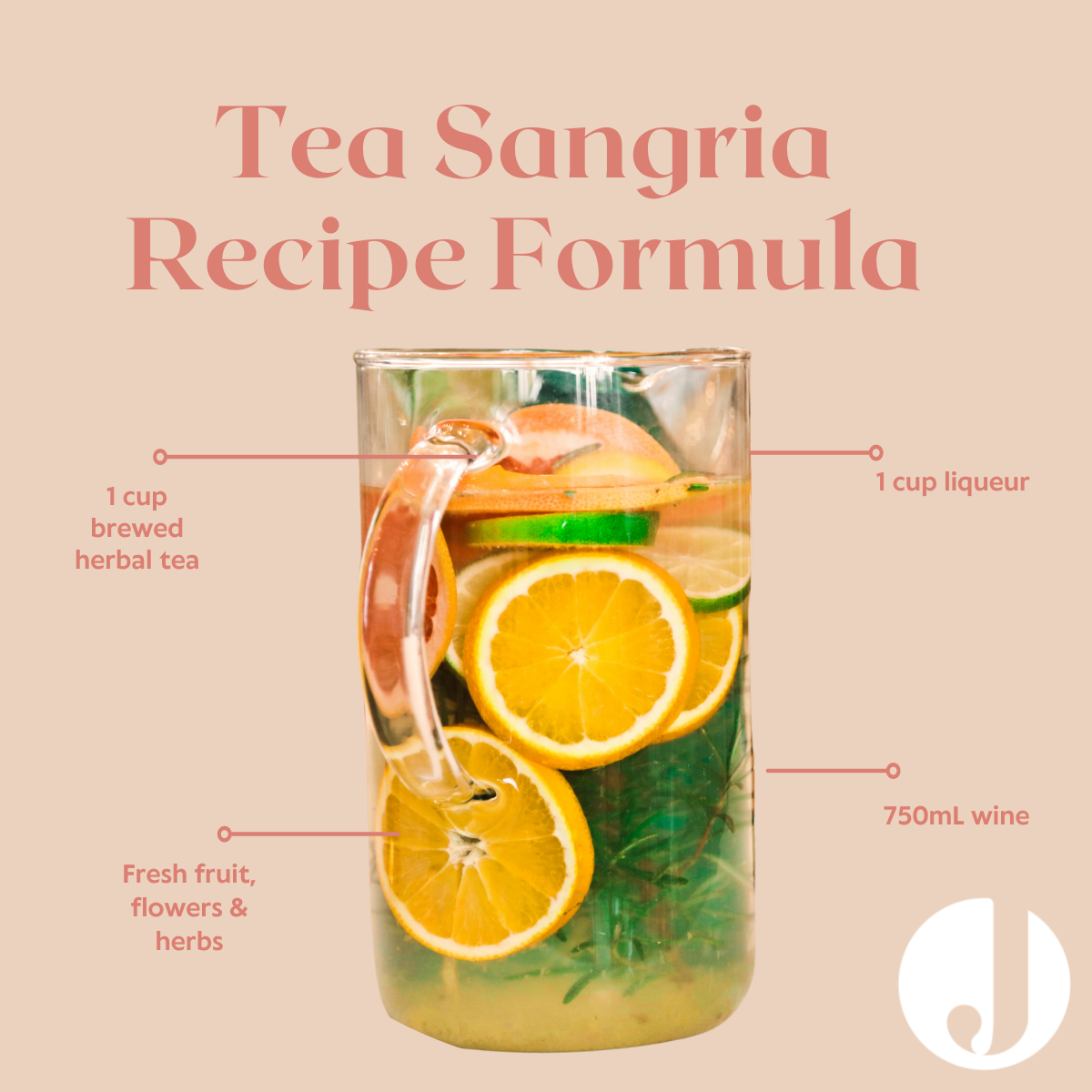 Fruit & Floral Tea Sangria Recipe
Ingredients
1 cup brewed Secret Meeting herbal tea
1/4 cup Cointreau
1 cup Elderflower liqueur
750 ml Vinho Verde
A mix of fruit such as orange slices, sliced nectarines, blueberries
Fresh herbs such as basil and mint
Fresh edible flowers such as calendula, nasturtiums, marigolds, cornflowers, and rose petals
Instructions
Brew the herbal tea according to the instructions, at double strength. For our blends, including Secret Meeting, we recommend brewing 1 tablespoon of tea per cup of water for 10-15 minutes. Use boiling water and make sure to cover the container to get the full medicinal properties of the herbs. Strain and allow the brewed tea to fully cool.
In a pitcher, combine the Cointreau, elderflower liqueur and wine. Add the cooled tea, then the mix of fruit, flowers and fresh herbs.
This sangria tastes best after resting in the fridge overnight, but if you are planning to indulge right away, you can add ice to the pitcher & stir.
This recipe makes many servings. It's also delicious as a spritzer - just top off your glass with a splash of your favorite seltzer or tonic water. Enjoy responsibly!
Juniper Culinary Apothecary teas, spice blends and other food products are not and shall not be considered food supplements in any circumstances. They do not ensure or supplement the daily vitamin intake and do not substitute a healthy diet.
What do you think?
If you found this helpful, we'd love for you to become a part of our community. We are on Instagram and Tiktok @juniperbaltimore and we send out a cute & inspiring email newsletter monthly. Enter your email below to join!